Help support Hannah Trotman...
MOMS Club of Ridgefield / Redding is raising money to help 2 year old Ridgefielder, Hannah Trotman, fight Leukemia.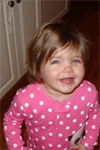 We are collecting new or gently used baby clothing, gear, toys, and maternity wear to sell at a fundraising consignment sale at t-he Danbury PAL May 1st& 2nd. Proceeds from the event will be donated to the Hannah Trotman Fund.
Donations will be accepted between April 24th - April 28th
Please contact Kim Harper at kharper36@gmail.com for details
Monetary Donations
Paypal is coming soon...in the meantime, checks can be made payable to The Hannah Trotman Fund and mailed to: MOMS Club Ridgefield Post Office Box # 76 Ridgefield, CT 06877