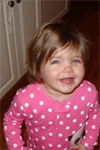 Help support Hannah Trotman...
MOMS Club of Ridgefield / Redding is raising money to help 2 year old Ridgefielder, Hannah Trotman, fight Leukemia.
We have organized a sale of new and secondhand children's items. High quality! Low Prices! Brand Names!
100% of the proceeds the MOMS Club recieves from the items that are marked MOMS# will be donated to The Hannah Trotman Fund.
The Connecticut Kids Closet
A Semi-Annual Consignment Event

May 1st: 7am-5pm PUBLIC SALE
May 2nd: 11am-3pm HALF PRICE SALE

Danbury Police Activities League (PAL) Center
(across from Candlewood Lake beach access and park)
35 Hayestown Rd.
Danbury, CT

Free Admission!
Tax deductible monetary donations may be made payable to The Hannah Trotman Fund and mailed to:
MOMS Club Ridgefield
Post Office Box # 76
Ridgefield, CT 06877
For more information visit The MOMS Club Ridgefield website: http://momsclubridgefield.tripod.com/